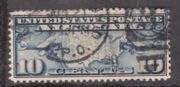 February 1926 is when the 10¢ airmail stamp was released. The olive brown 15¢ one was released September 1926 and a yellow green one for 20¢ was released January 1927. This stamp was designed by C.A. Huston with a map of North America with a De Havilland DH4 on each side. 
All 3 stamps were issued to meet the new Airmail rates. The 10¢ stamp covered one zone, about 1,000 miles for a 1 ounce letter. 
You can research stamp prices but they do tend to change. 
As of 9/2013 There were no successfully completed Ebay auctions for this item to give a range. As common as it is I've found only a few for sale and always in a set. With over 42 million having been made I don't expect this stamp to have much value despite it's condition or being a (FDC) First day cover or not.
References
Edit
Argo People, Postage & The Post                    US Stamp Gallery                                Colnect
Shared Details 

| | |
| --- | --- |
| Perforation | 11 |
| Watermark | None |
| Size | 184⁄100 x 75⁄100 inch |
| Printing | Recess |
| Designer | C. A. Huston |
10¢ Specific Details

| | |
| --- | --- |
| Stamp Number (Scott) | US C7 |
| Michel Number | US 300 |
| Face Value | 10¢ |
| Color | Dark Blue |
| Plate number | 18246 |
| Issue Date | February 13, 1926 |
| Amount issued | 42,092,800 |
15¢ Specific Details

| | |
| --- | --- |
| Stamp Number (Scott) | US C8 |
| Michel Number | US 301 |
| Face Value | 15¢ |
| Color | Olive Brown |
| Plate number | 18746 L |
| Issue Date | September 18, 1926 |
| Amount issued | 15,597,307 |
20¢ Specific Details

| | |
| --- | --- |
| Stamp Number (Scott) | US C9 |
| Michel Number | US 302 |
| Face Value | 20¢ |
| Color | Yellow Green |
| Plate number | 18898 R, F18892 B |
| Issue Date | January 25, 1927 |
| Amount issued | 17,616,350 |