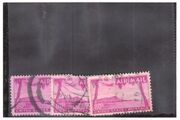 This stamp was issued in 1952 when 3¢ stamps were being issued. Shows a 4 engine Boeing 377 Stratocruiser flying over Diamond Head, HI. 80¢ was the cost to fly a 1lb package from Hawaii to the mainland. stamp was created at the request of Hawian merchants, so they may send orchids to the mainland using 1 high value stamp instead of plastering the entire item with small value stamps. (Rewind the 50's)
You can research stamp prices and they do tend to change. Just remember a dealer may not buy at the prices listed below.
As of 9/2013 Ebay auctions for this item have gone as low as $1 on up to $8 each. Many retailers are currently selling this stamp any where from $3 on up to $9 each depending on condition and if it's a (FDC) First day cover or not.
References
Edit
Rewind the 50's           Colnect            Wikipedia: 1952 Airmail
Stamp Details

| | |
| --- | --- |
| Stamp Number (Scott) | US C46 |
| Michel Number | US 626 |
| Face Value | 80¢ |
| Perforation | 11x10.5 |
| Color | Bright Red Violet |
| Printing | Recess |
| Watermark | None |
| Amount issued | 18,876,800 |
| Plate number | 24592-4 (3 plates) |
| Issue Date | March 26, 1952 |